Sustainability: Innovative Sweater Re-Design
We are living in a world that excercizes a vast consumption of material goods. These products have short shelf lives and more often than not end up in the dump. We teamed up with students at Heriot-Watt University in Scotland to brainstorm ways to curb this wasteful behavior in a fun and stylish way.
A collaboration formed between myself and two students at, Imogen Broadbridge and Janet Irons, to source used, found, up-cycled and waste garments as the basis for our innovation project. Our intention was to find new ways alter and create garments and accessories that would extend a wardrobe rather than replacing it. We called our project "ThRee-Made".
We unraveled, laser-cut, bonded, needle-punched and felted garments that we found in the backs of our closets to at various thrift stores.
We investigated ways of joining, sculpting and shaping the pieces into collars, cuffs, hoods, legwarmers, and arm warmers. Using the unraveled yarns we knit and crocheted pieces to compliment the laser cut designs.
We investigated ways of joining and fastening the finished pieces on to a base garments that could then be interchanged, swapped and up-dated with current trends. Each piece was designed to work alone or interchangeably together.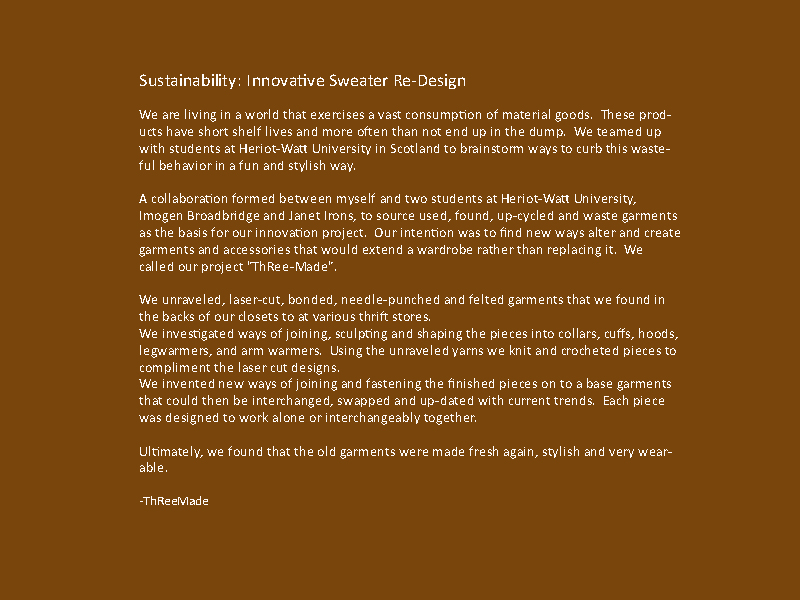 This piece was made by first felting several wool sweaters. I cut the blue fair isle sweater into new shapes to make high-necked capelet. The white, black and grey pieces were designed to be modular and interchangeable. These pieces were laser cut and all are exactly the same size and shape. They can be removed and rearranged at will.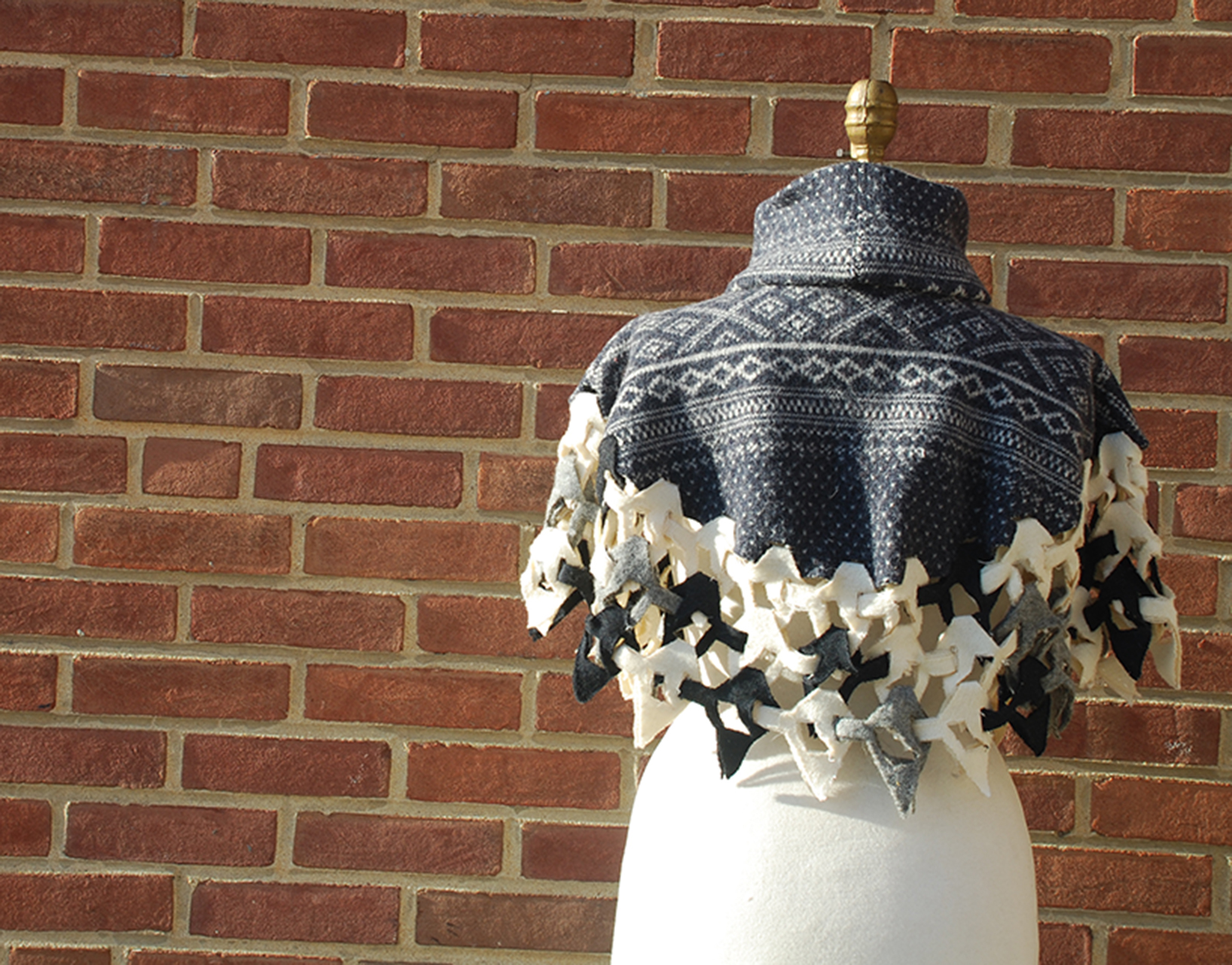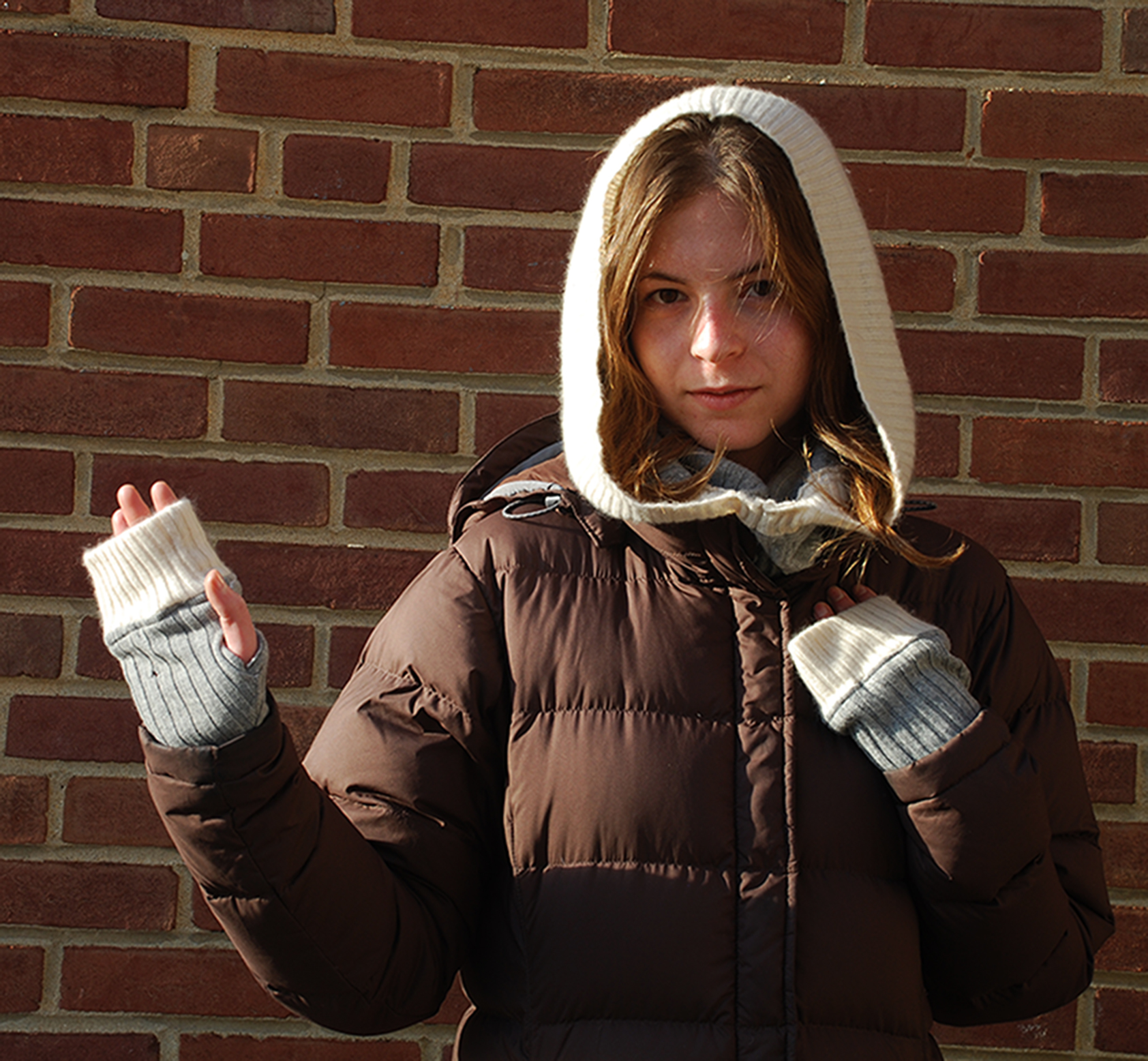 This set was made by deconstructing two different moth eaten cashmere sweaters found at a thrift store. I cut out shapes, avoiding the moth holes to make the hood. The mock turtleneck of one sweater was turned upside down and became the bottom neck hole of the hood. The sleeves were cut off and re-sewn using left over scraps to make long fingerless mitts. This accessories set is meant to be worn for extra warmth on chilly days.
The sleeves were cut off of a worn out sweater found in the back of a closet and turned into legwarmers. To make them fit and look more applealing, a large, natural colored, wool sweater was unraveled and the yarn was re-used to make the crocheted tops. Scraps of felted wool were cut and sewn into flower brooches with felted, button-shaped backs. These all-felt brooches could be worn as additional decoration, fitting into a button hole or through the wide holes in the crocheted legwarmers.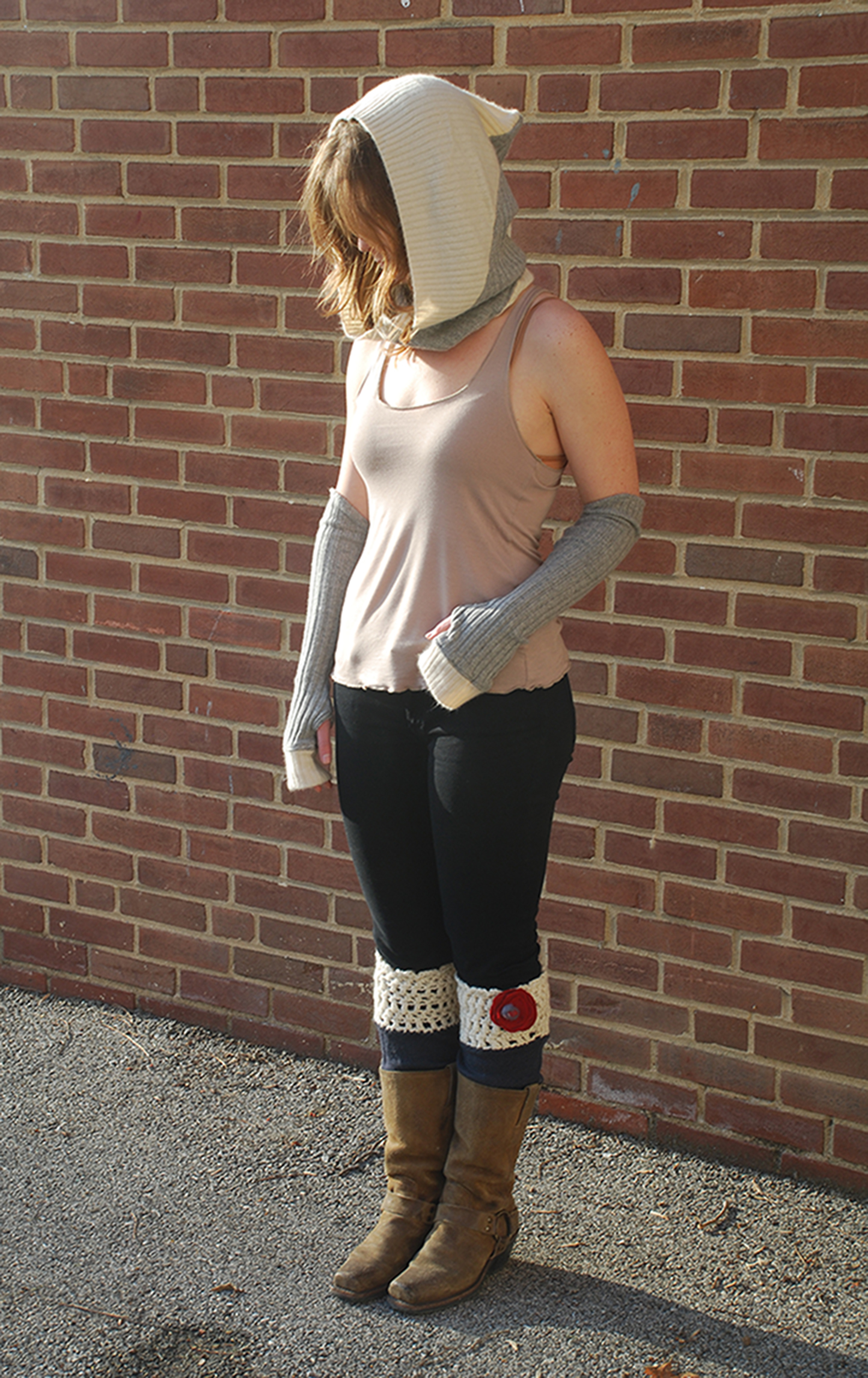 Some of the remaining yarn from the large, natural colored, wool sweater was re-knit into a neck-warmer. Scraps of fabric were sewn into long strips to tie the piece together.
Laser cut Collars and Fasteners
Some of Imogen's and Janet's lovely laser cut collars, modular pieces and fasteners.